It's not fair to talk about an exhibit after it's closed, so I will apologize right up front!  I got so much inspiration from this exhibit that I have to mention it, and I will at least share images of the pieces that moved me! The exhibit was "Serizawa: Master of Japanese Textile Design" at the Japan Society in New York. (The book, which I bought, is available at the link above.)
These are all dyed works on silk, hemp and cotton cloth (I believe handwoven cloth). This is a traditional technique known as katazome, which involves stenciling with natural dyes and natural resists. Serizawa was a master of this technique and is a National Treasure in his country.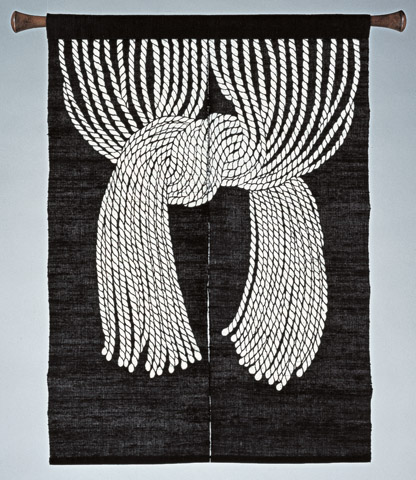 I am particularly interested in his use of lines and brush strokes.  Many of these images are so similar to ideas I've imagined weaving in tapestry.  It was a thrill for me to see what he did with dyes!  I have a small folder of Arabic and Hebrew script which I'd like to weave, and this image of Japanese characters is going in the same folder! 
Awesome, Awesome!